Who wants to cook when they're on holiday?
A canal cruise brings pubs with their own moorings and canal side village taverns right to your front door! Our tagline is NEW VIEWS EVERYDAY and when it comes to canal boat dining it's a new bar every mealtime.
British food may not be at the top of the tourist dining out agenda, but the cliche of brown stodge with everything is amazingly unfair. Just look at all the TV chefs we have.
Maybe we don't shout so loud as the French about the importance of food culture or export as many recipes as the Italians, but regional British gastronomy is no less eclectic. From breakfast to supper and every bite in between, the great British menu has it covered. This makes eating afloat a doddle.
The Breakfast of Kings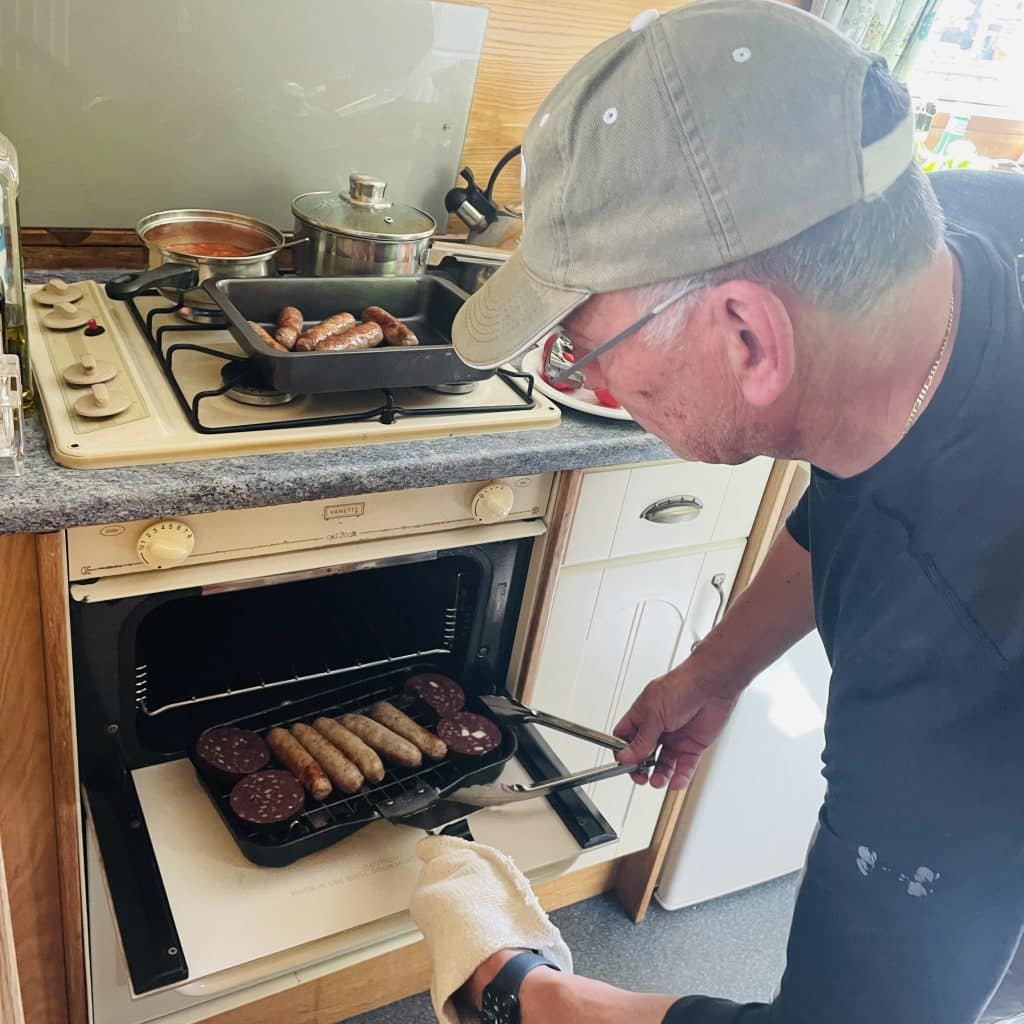 This is the meal you might want to take on yourself. There's a blog post here about shopping while afloat – another world-leading experience in my opinion – or take advantage of the numerous food shopping opportunities in the villages you pass through.
Kodran has a fully equipped galley kitchen with a traditional (for the UK anyway, no monster ice-boxes here!) under-the-counter fridge with small freezer compartment, gas oven and hob (cooktop). The fuel is Liquid Petroleum Gas (LPG) aka Propane, in bottles similar to a domestic barbecue, housed in a safe locker at the back of the cruiser stern.
Dining on a narrowboat holiday needn't be a second class option. Unlike camping, the galleys on narrowboats lend themselves to the full-on culinary experience, whether its a Full English breakfast with the Works or a roast dinner. And supermarkets who will deliver online orders canal side further simplify life for the ship's cook.
Takeaway Menu
We have as many varieties of bread as the Italians have pasta shapes. We invented the sandwich after all. And what the UK does best in the fast food scenario is sandwiches. You'll find packaged sandwiches with a huge variety of fillings and breads, including gluten-free options in almost every supermarket and petrol station, anywhere.
Add to that many types of filled pastry, tarts and quiches and a quick lunch grab is very easy. Many supermarkets bundle drinks – including alcohol – and sweet snacks into mix-and-match lunchtime packages at discounted prices.
Liquid Lunch
But a real treat after a mornings cruise is the pub lunch. Check this link for pubs along your route.
The UK is well known for its beer, and the canned varieties which are now commonly exported are no match for a freshly pulled pint. Couple that with a traditional Ploughman's lunch and the savouring of a time honoured country ritual continues.
Pies, once the pervue of the upper classes, were adapted in the years of the Industrial revolution which canals are so closely associated with, to make a hearty labourers lunch. Take the Cornish pastie for example: did you know the pastry case was just a natural lunchbox to protect the precious meat and potato contents from the poisonous by-products of tin mining?
Other great pairings for a pint include the steak and kidney pie, or it's adaptation the steak and ale pie. Chips or mash is the traditional accompaniment with peas – mushy peas are a common alternative. Where thins was once the only green side, pub menus are sensitive to modern tastes and other vegetable sides are common.
Chilled pies such as sausage rolls and pork pie, found in supermarket lunch aisles, are also a staple of the pub lunch menu. Pair with a salad, or an adaptation of the Ploughman's with a selection of cheeses, fruits and chutneys. And of course, bread.
Sunday Lunch
Sunday lunch requires a mention all of its own. It may be the meal Brits are best known for. Even if a pub doesn't do food during the week – a rarity in this highly competitive industry – it is bound to do a Carvery at Sunday lunchtime.
The Carvery is a hangover from the 1970s heyday of the big breweries and their first diversifying step into restaurants. The Toby Carvery is an enduring example. The buffet format allows the pub to offer a varied menu of roast meats and traditional vegetable sides in a cost effective way. There are no waiting staff and no stressed kitchen trying to provide to everyone's taste at the busiest meal of the week. It is great value.
Fish and Chips
I have to mention Fish and Chips separately because it is iconic. And that means don't have it in a pub! Without fail you'll find a 'chippie' in a canal side town and a fish supper from here will taste far better than any pub menu offering.
Tea Time
Ah the perennial argument: when is tea time NOT Tea Time? In many a local vernacular tea time is the evening meal, otherwise known as Dinner. But it often follows that in the same lexicon dinner time is Lunch. Confused?
For the purpose of this blog, I'll take my lead from my days dining with the UK Armed Forces whilst an under-grad. At 4 o'clock every afternoon, we would be picked up from the base and driven by land rover to the Officers Mess where would take tea from china cups and eat cakes and – I kid you not – sandwiches with crusts removed.
There as no exam in the subject at the end of my tenure, but an education in etiquette was had!
Try tea and scones (skons, any other pronounciation is to be sneered at) with jam and clotted cream. All the supermarkets stock them.
Canal boat Dining aboard narrowboat Kodran
Eating out with a family every night soon adds up so take advantage of Kodran's full galley kitchen and eat in sometimes. You'll see narrowboat Kodran's full layout in this blog post. And the supermarkets mentioned above all do a great range of dine-in options if prep is a chore.
All the pots, pans, kitchen utensils, dishes, cups, glasses and cutlery you'll need for your vacation afloat are provided. Since this is England, there's a tea pot for those traditional afternoon teas. But we hope you'll also appreciate the stove top espresso pot and French press for those morning coffees.
But you'll be missing out on the full adventure if you don't take advantage of the Great canalside British menu.
---
You can find more FAQs answered here and tips on our Home Page. And if this has whetted your appetite for a cruise of your own, you can find all our Booking Details here.