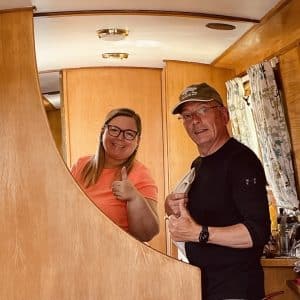 Welcome to Ukvacationsafloat, private canal boat hire from the Heart of the English Midlands. Hello, I'm Mike and this is my wife Enza (Vincenza). We divide our time between working in Toronto, Canada and holidaying in Europe. When we're 'back here' we live aboard narrowboat Kodran. When we're 'back there', which is most of the time as Enza is still heavily involved in the local community while working at the City of Vaughan, we'd like to share Kodran with you!
I'm lucky enough to have retired early and get to spend more time back home in the UK. Furthermore, my parents live in the beautiful Staffordshire countryside which is surrounded by canal history.
It's also where our narrowboat is based, just 1/2 west of M6 junction 12. Easy to get to with great road and rail links from Manchester(MAN) and Birmingham(BHX) airports. And there's plenty of free, secure parking. There, you're relaxing already!
Canal Heritage
There's so many places to cruise to from Gailey Wharf, which makes it the perfect central location for a private narrowboat hire holiday.
The Staffordshire Potteries of Wedgwood and Royal Doulton are close by and are intricately linked with the history of the Midland canals. And the UK's second city of Birmingham is only 20 miles away. My home town, and the bustling centre of the original industrial canal network.
I've made a lifestyle change to allow me to spend more time with Mom and Dad and so I'll be living aboard Kodran out of season – Mom and Dad are the best, but a lad needs his own space! Meanwhile when back in Canada with my own family, Kodran will be moored with and looked after by the experienced staff at JD Boat Services at Gailey Wharf on the Staffordshire and Worcester canal.
And that gives us the opportunity to share narrowboat Kodran, as a private canal boat hire, and the canal cruising experience with you!
You can find more FAQs answered here and tips on our Home Page. And if this has whetted your appetite for a cruise of your own, you can find all our Booking Details here.